Dear friends,


It has finally happened. The first issue of the Elysian Shadows newsletter is out! Well, you know that because you're reading it.

The team have been hard at work as usual working on the game. We have been pushing our social media presence as hard as we can and will continue to do so. The support you guys have shown us is inspiring. Please continue to share the things we do and help us spread the word. We really hope you will help us realise our dreams and enable as many people as possible the opportunity to play what we have been working on for so long.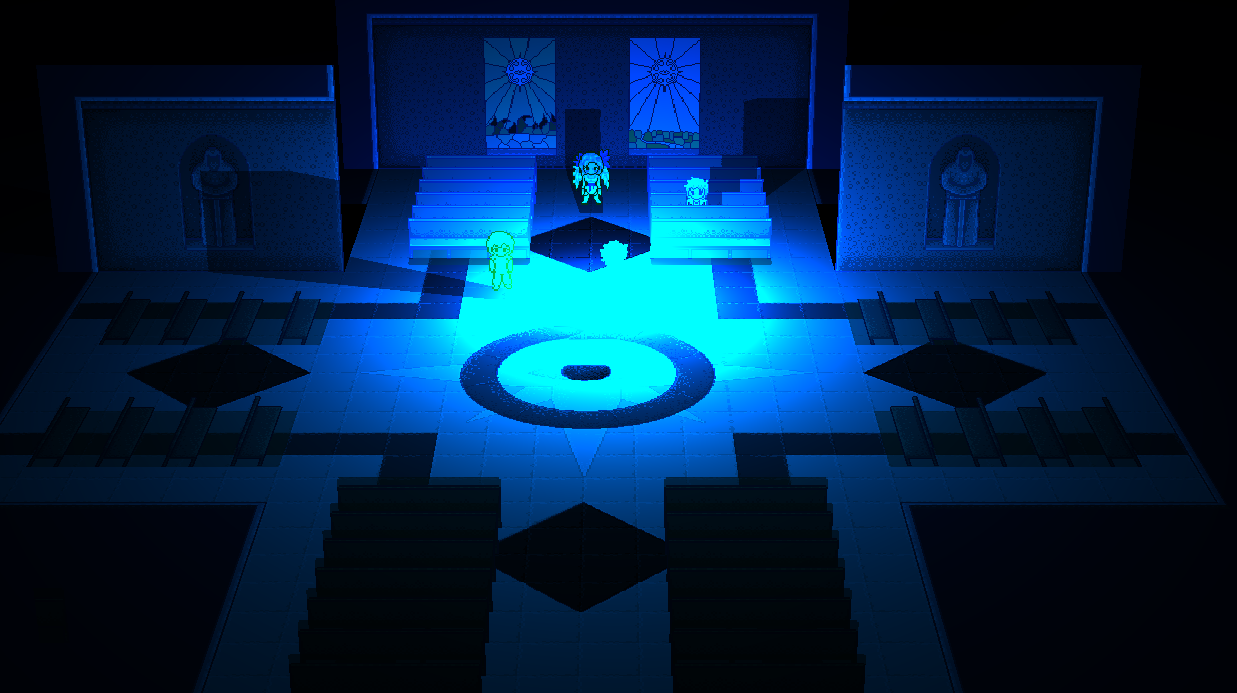 Latest Articles
Destructoid.com Loves Adventures in Game Development
Dale North, the Editor-In-chief at Destructoid published an article expressing his suprising enjoyment and entertainment after watching one episode of Adventures in Game Development.
See Article
Elysian Shadows Appears On indiegamemag.com Forum Finds
After posting on the Indie Game Magazine forums, the staff decided Elysian Shadows looked worthy of a dedicated article on, what they call, "Forum Finds".
See Article
We are setting the wheels in motion for our Kickstarter campaign. Track it
here
Team Updates



Falco Girgis




Lead Engine/Toolkit Developer


After releasing AiGD24, I decided to revisit a little something we broke during recent development: the 3D camera and perspectives... I wound up implementing a true perspective 3D camera, and modified the default orthographic camera to move down the X axis, to seamlessly move between 2D and 3D with an oblique perspective in-game. Once I did that, I added map attributes for defining a tile's normal direction in 3D-space, so levels can be created in 3D... I also took the liberty of completely overhauling and fixing all dynamic shadowing including the day/night system to look great in every perspective... THEN I went a little overboard (dat dev high), and realized I could move particle physics into full 3D for astoundingly-awesome particle effects. The gravity and explosion effects have been redone to honor the 3rd dimension...and they're beautiful.



Tyler Rogers




Lead Gameplay Engineer


I've been working on several different tasks these last few weeks. We've got a new file management API that had to be 'merged' into the Lua scripts for the mobile devices, and things like VMUs to work properly. Falco finished up several new components and Lua wrappers in his latest push, so I've been testing and integrating them in my scripts. One of the new components was the "Combat Component", which I subsequently paired with my current autonomous, state machine driven entity behavior scripts. I've been able to finally fully implement and experience the founding ideas we've had for combat for so long. We've had quite a bit of time for R&D in what makes both games and their different subsystems like combat, not just good, but great. (We've been playing games for a lot longer than any of us have been developers!) Right now our biggest goal is to make the shift in both our YouTube series and PR from 'a game engine/toolkit in development' to 'a GAME in development'. We can't wait to truly begin sharing our project with the fans!



Patryk Kowalik




Lead Artist


Taking a look at the projects current state relative to how we projected the games completion when launching the Kickstart campaign, we realised we needed more art than we first thought. This lead to two new artist's joining the team. Welcome Leandro and Morgan. I will be working closely with them to establish an understanding of the current art style and creating assets for the game. The art team will blow your minds in the upcoming weeks with new areas, enemies, NPC's and environment props.



Connor Linning




Soundtrack Creator


I've recently switched to Cubase from FL Studio and my spare time during my midterms and exams have been focusing on getting all my VSTs set up and learning all the nuances of Cubase. I immediately fell in love with Cubase and enjoy it the most out of any DAW that I have worked with. It feels like you have much greater control over all aspects of your work, and both midi programming and live audio editing go together perfectly (whereas some DAWs seem to favor one over the other). Cubase will certainly allow me to make the ES soundtrack more detailed and more intricate. At the end of the month when exams are over, I'm going to be having a lot of fun!



Daniel Tindall




Web Designer & Developer


We had a very successful website launch last week. I want to thank everyone for the kind words. We will be updating it with new information and content over the coming weeks so keep your eyes peeled. I have teamed up with Falco to tackle the PR side of things and help grow our social following and presence online and in the indie dev community. We have been reaching out to the big players of the video game media world and recieved attention immediately from Destructoid. We are very happy with their response and hope to see the same thing from others we have contacted. I have been doing my best to highlight that Falco and the rest of the team are developing a game, and given the success of AiGD Chapter 24 people really enjoyed the change in focus. This should be amplified in Chapter 25 so look forward to that.


Breaking News
Discover A World Divided
artilce by NicheGamer.net
Latest Screenshots